Setting the foundations for rich location-based experiences
An appropriate set of data and technology standards are required to extend the full power of geo-social services to mobile devices. Image Matters played a key role for OGC as lead architect and engineer in developing the standards for rich, service-based map and navigation experiences on mobile devices. Most recently, we led the development of OGC's GeoPackage specification that allows mobile users to use full-functioning mapping, navigation and geoprocessing onboard their mobile device, while disconnected from the Network. We are currently working on the next generation of analytics for the GeoPackage. We are also working on extending the National Geospatial Platform experience to mobile users.
Why Geo-Social Mobile?
Geo-social mobile services combine social networking with location-based services to provide engaging mobile experiences that are more relevant to in situ users. It's less about richer content experiences than it is about giving mobile users exactly what they need in specific situations. It's also about making sure that users can obtain the same level of geospatial detail and support that they are accustomed to obtaining on their desktops.
Image Matters is addressing these needs by providing geo-social SaaS/PaaS solutions that can perform and scale to meet the demands of users on the go. We are placing emphasis on user-friendliness and rich multi-media experiences, pushing most of the customary geospatial complexity behind the scenes.
Featured Project: Image Matters helps Wireless Matrix (now CalAmp) build award-winning fleet asset tracking system
Image Matters played a key role in engineering a more robust and scalable version of the Wireless Matrix's flagship vehicle tracking services platform. Highlights include:
Vastly improved capabilities for real-time data collection (e.g., speed, number of starts/stops, traffic conditions, inclement weather), notification processing, and processing of 30+ types of vehicle alerts (e.g., vehicle distress signal, exceeding posted speed limit, deviating from route/area)
Built, integrated and tested service infrastructure and migrated large subscriber base over to new platform with minimal disruption of services
Built message simulation system to test the new framework without deploying physical devices, and designed an innovative verification system that uses an advanced processing language to validate millions of real-time messages per day
Advanced platform engineering and analysis to optimize mobile application performance in low bandwidth and intermittently connected areas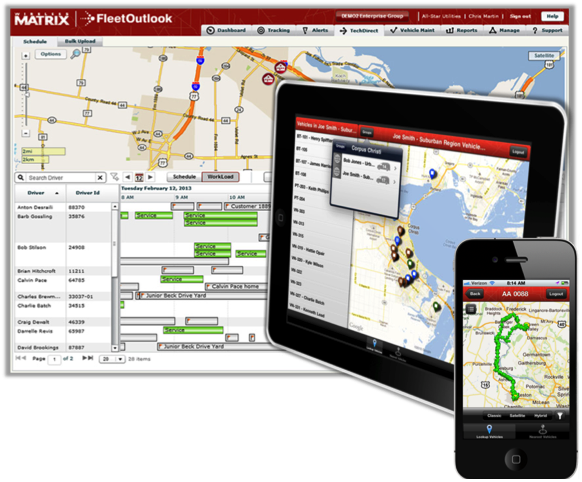 How can we help you? [vfb id=2]